IAM Health GPS…….
At the confluence of the Consumer, Healthcare,
Insurance and the Internet of Things…Everywhere you are….IAM.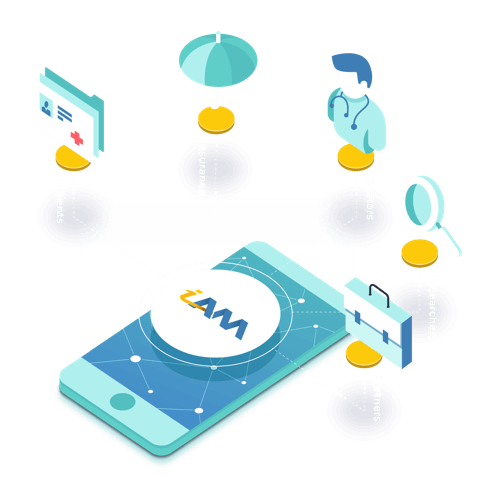 iAM solves the biggest single point of failure in healthcare with our distributed system. Patients with long term conditions unfailingly receive alerts, reminders and follow ups. These are processed automatically, requiring no effort or resources from doctors, practice staff, or the patient.
iAM's unified platform solves healthcare's biggest issues including insurance fraud, medication adherence, prescription abuse and also the problem of medical data portability.
With enterprise partners Guardtime, Healthcare Gateway, and DXS our solution will be accessible to more than 70% of the UK population. We secure records using industrial scale Keyless Signature Infrastructure. This provides patients with an immutable GDPR and HIPAA compliant personal care record. Users intelligently share their health record data via Guardtime's Health Information Exchange (HSX). The iAM platform utilizes smart contracts to govern transactions and digital payments in our healthcare economy.
OUR MISSION
Our mission is to deliver the best healthcare outcomes for individuals, at the lowest costs for funders, insurers, providers and employers.
We believe good health must be created and managed, for which people need their own comprehensive, life-long, multilingual, portable personal care record.
Our core software is used by Special Olympics for global health screening in 80 countries and by 3,000 clinicians in 4 countries in 4 languages.
Our personal care record, MyPCR, is based on our global experience.
MyPCR is a comprehensive, life-long, personal care record in the Cloud and on mobile devices (iOS and Android).
MyPCR is updated directly by individuals themselves, by doctors, nurses or pharmacists, or automatically from physician electronic record systems, where available, and from remote devices, wearables and IoT.
MyPCR automatically analyses the incoming data, interprets it, and makes it come alive by creating specific, unique, evidence-based personal care pathways for each individual.
These care pathways deliver personalized interactive alerts, reminders and follow up for the actions to take to get the best health outcomes including long term conditions (diabetes, hypertension, heart, lung, kidney disease, mental health etc.), immunizations (childhood, teens, adult, elderly and travel), and cancer screening (cervical, breast and bowel ).
MyPCR is multilingual and supports wellbeing programs, health promotion, and information resources to empower individuals for self-care and self-manage where appropriate.
MyPCR guides individuals to their best health outcomes, at the lowest costs for funders, insurers, providers and employers.
WATCH THE INTRODUCTION VIDEO