IAM Health GPS…….
At the confluence of the Consumer, Healthcare,
Insurance and the Internet of Things…Everywhere you are….IAM.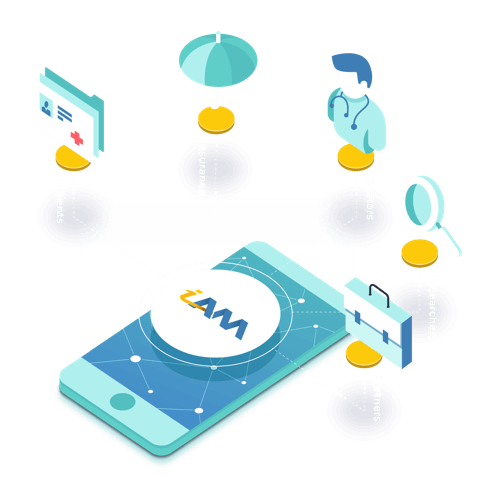 iAM solves the biggest single point of failure in healthcare with our distributed system. Patients with long term conditions unfailingly receive alerts, reminders and follow ups. These are processed automatically, requiring no effort or resources from doctors, practice staff, or the patient.
iAM's unified platform solves healthcare's biggest issues including insurance fraud, medication adherence, prescription abuse and also the problem of medical data portability.
With enterprise partners Guardtime, Healthcare Gateway, and DXS our solution will be accessible to more than 70% of the UK population. We secure records using industrial scale Keyless Signature Infrastructure. This provides patients with an immutable GDPR and HIPAA compliant personal care record. Users intelligently share their health record data via Guardtime's Health Information Exchange (HSX). The iAM platform utilizes smart contracts to govern transactions and digital payments in our healthcare economy.
OUR MISSION
Our mission is to deliver the best healthcare outcomes for individuals, at the lowest costs for funders, insurers, providers and employers.
We believe good health must be created and managed, for which people need their own comprehensive, life-long, multilingual, portable personal care record.
Our core software is used by Special Olympics for global health screening in 80 countries and by 3,000 clinicians in 4 countries in 4 languages.
Our personal care record, MyPCR, is based on our global experience.
MyPCR is a comprehensive, life-long, personal care record in the Cloud and on mobile devices (iOS and Android).
MyPCR is updated directly by individuals themselves, by doctors, nurses or pharmacists, or automatically from physician electronic record systems, where available, and from remote devices, wearables and IoT.
MyPCR automatically analyses the incoming data, interprets it, and makes it come alive by creating specific, unique, evidence-based personal care pathways for each individual.
These care pathways deliver personalized interactive alerts, reminders and follow up for the actions to take to get the best health outcomes including long term conditions (diabetes, hypertension, heart, lung, kidney disease, mental health etc.), immunizations (childhood, teens, adult, elderly and travel), and cancer screening (cervical, breast and bowel ).
MyPCR is multilingual and supports wellbeing programs, health promotion, and information resources to empower individuals for self-care and self-manage where appropriate.
MyPCR guides individuals to their best health outcomes, at the lowest costs for funders, insurers, providers and employers.
WATCH THE INTRODUCTION VIDEO
Health Check Data
Viewing your health data is easy with blood pressure results and blood tests displayed graphically.
Actions, Appointments & Smart Alerts
Take control of your own health. Our app creates personal care pathway actions based on your own data. Keep track with appointments and Alerts that remind you when actions are due.
Video, Imaging and Device Pairing
Through Moxtra's embedded solution you can connect via chat, phone or video and share documents, images, and data, with full mark-up facilities. Image reports are synced with physician systems and you can pair a wide range of remote monitoring devices and wearables.
Manage Consent, Language & Search Directory.
Our app has built-in Consent Management including the European Union General Data Protection Requirements (GDPR).
Your Healthcare GPS
Manage your own health by automatically importing your full medical history from your GP, Hospital or Healthcare provider. Easily purchase a range of in-app services from iAM and partner providers.
Medication, Immunisation & Allergies
Your medication, allergy and immunisation records are all in one place; automatically imported from physician systems or added yourself.
Our Technology
iAM delivers a new way to manage your health journey and personalized care data. We accomplish this by integrating existing IT infrastructure with modern technologies:
Proprietary Application Sharing
Mobile Care Record & Apps
Industrial 

KSI

®

Security

iAM Structured Data Interfaces
Silo Clinician EHRs
Our Solution
Patients, doctors, insurers, researchers, public health agencies, and big pharma often have different goals. Yet they commonly encounter similar problems. Some examples include:
$260 Billion lost in health insurance fraud

$290 Billion lost in medication non-adherence
73% Year-on-Year rise in deaths from prescription abuse

Cybercriminals target medical data
Lack of data portability restricts patient and insurer choice

Digitization alone doesn't ensure records can be trusted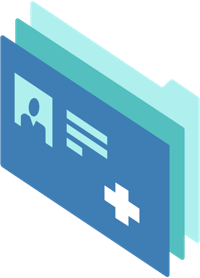 Problem
Patients want the best health outcomes, the lowest out-of-pocket costs, and the ability to manage their health records directly from their mobile phones. Patients are highly concerned about cybercriminals targeting their medical data. This data is now worth 100x more than credit card numbers! They want assurance their health records are private and secure.
Solution
iAM makes patients' health data come alive pro-actively by automatically creating unique, personalised care pathways specific to each patient. The app incorporates multilingual alerts, reminders, and follow ups to guide patients to their best health outcomes. This is all accessible on the patient's mobile phone. Decentralized technology also ensures the security of every patient's health data.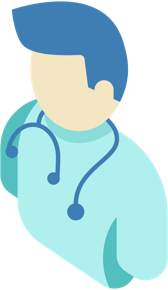 Problem
Doctors and care providers want to increase their productivity and income while providing patients with the highest quality care at the lowest possible costs.
Solution
iAM personal care records are digital, pro-active, and accessible anywhere within the healthcare continuum. This saves doctors time, and time equals money. Our records utilise the world's best evidence to improve the quality of patient care. Personalised care pathways ensure that our solution delivers the best outcomes at the lowest costs. Patient data is securely stored and shared. It can only be accessed and updated with the owner's consent.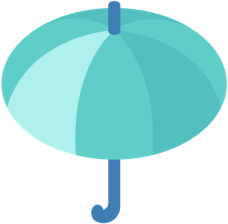 Problem
Insurers want to predict risk, improve efficiency, and reduce costs. This is made possible with higher-quality risk assessments and claim handling. All insurers need is precise, up-to-date health information, and the desire to significantly reduce healthcare fraud. Such fraud is currently a $260 billion problem worldwide.
Solution
With consent, insurers gain access to comprehensive, real-time data via the iAM personal care record platform. All personalised care records are conformant with evidence-based care pathways. Insurers can now conduct risk assessments to optimise efficiency and reduce claim handling costs. Decentralization enables secure sharing of immutable, personal healthcare data that is both fraud-proof and tamper-proof.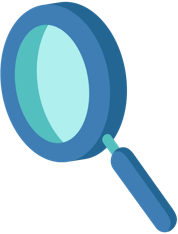 Problem
Researchers want to acquire access to anonymized longitudinal personal healthcare data for healthcare analytics.
Solution
iAM personal care records enable researchers to access comprehensive, longitudinal, multilingual, structured, coded and anonymized patient data. Patients also benefit from sharing their personal de-identified data by earning iAM rewards and discounts.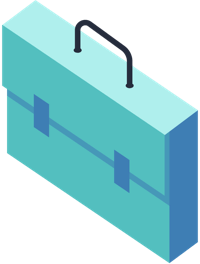 Problem
Partners want to broaden their influence, attract and retain more customers, and access wider healthcare markets.
Solution
iAM enables partners to white label the iAM personal care record app and package this with their own solutions. This increases efficiency, reduces costs, brings in new customers, and improves customer loyalty.
AI Analytics
AI Analytics has an insatiable thirst for health data.
Solution
There is no better source of health data for AI than complete, comprehensive, structured, multilingual, longitudinal personal care records. iAM's personal care records provide real-time access to the best data for AI analytics.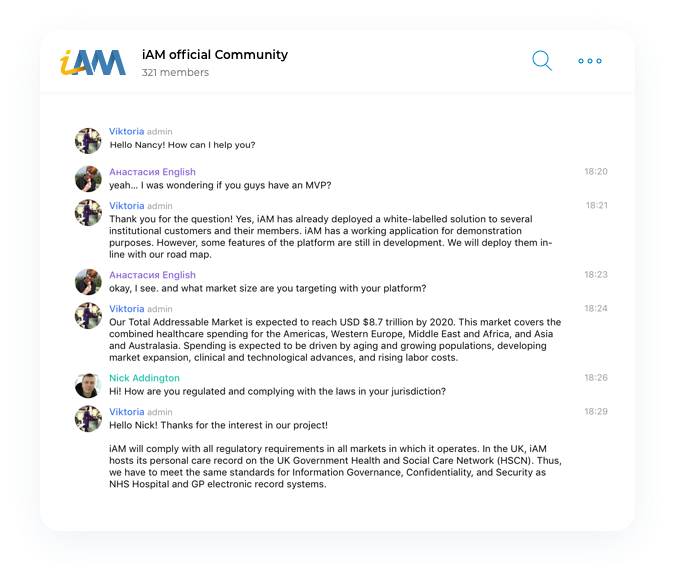 Ask questions, take part in discussions, and maintain access to our frequent updates